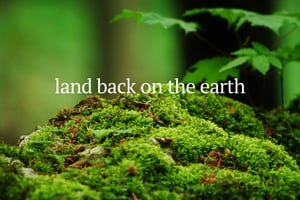 Transformational embodied coaching that reconnects you to yourself and the world.
Become an Earthbound Being again.
Discover meaning, purpose, resilience, flow and joy by learning to deeply reconnect with Life through the wisdom of your body.
We coach people to shift from hollowness to wholeness and from feeling contracted to feeling connected.
Reinhabit your true nature and come back to Life.
I am so thrilled to have been able to work with Earthbound in this way. I have been shocked by how powerfully answers have been felt during the embodied process and how impactful this clarity has been, bringing a calm and greater feelings of presence even into busy and stressful work situations. I have also felt more deeply connected to family and friends and more accepting of myself; this has been joyous.
— Miriam Leece, entrepreneur
There is growing awareness in the environmental movement that the climate and ecological crisis is a reflection of something that is much more existential. This is why Earthbound is so important, because it focuses on reacquainting us with our deep interdependence. Earthbound is refreshing in that it is part of a developing movement that steers a regenerative path forward.
— Mark Allen, Holistic Activism
Dan has a high level of knowledge and skills and can very much "meet you where you are" in terms of your own familiarity with this kind of practice. Throughout the sessions, he consistently created an environment of emotional safety from which it was easy to relax and commit to the practices. Dan is a respectful, non-judgmental practitioner with high levels of integrity and I wholeheartedly recommend him.
— Wendy Showell Nicholas, psychotherapist
subscribe to our newsletter